How to find the Strawberry Fields Kite Festival
RMHC - St. Thomas is on the corner of Sunset Drive and John Wise Line.
To get there: take Hwy #401 to Wellington Road., then take Wellington Road south to St. Thomas (it ends at the Hwy #4 lights). Take Hwy #4 (Sunset Drive) south to the hospital site.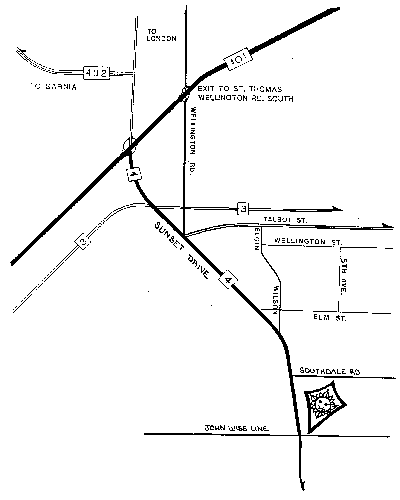 Contests & Awards
The Godzilla Award
This award will be presented to the Rokkaku Warrior who stomps the other kites as well as Godzilla stomped Mothra.
The Queen of Hearts Award
The kite flyer whose kite steals the hearts of the most people in the crowd (as measured by the ballots cast) will be awarded the Queen of Hearts.
The Strawberry Tart Award
The Strawberry Tart will go home with the sexiest object on the flying field, be it windsock, buggy, or kite flyer. Judge's choice and no explanations given.
The "Furthur" Award
The kite flyer who has travelled "further" than anyone else to be here will have this trophy to take home.
The Flying Circus Award
Creative kitemakers under the age of 12 are elegible. Most unique kite will take home this award.
Strawberry Patch Award
It takes a bunch of berries to make a patch, so this trophy goes to the biggest group effort in kitemaking.
Wind Garden Award
This award is for wind toys; socks, spinners, banners and inflatables. Plant your garden on the field and let it grow.