Welcome to the website for Gothic Design, the design partnership of Anne Sloboda and Eric Curtis. We started Gothic Design on April, 1976 as a textile printing studio located in an old warehouse in downtown Toronto, Canada. We moved to our current home, an old schoolhouse (built in 1908) in Sparta Ontario in 1980. Since then, we have narrowed our textile design and printing to strictly producing kites, with acid dyes on nylon sailcloth, presented as Boreal Kites. We have also broadened the range of what we do to include an offset printing operation incorporating a small book publishing business, Full Circle Press.
Please have a look at the rest of our site, from the choices below.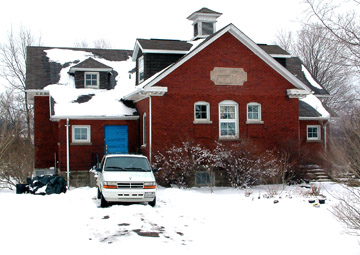 The home of Gothic Design,
Sparta, Ontario, Canada,
March, 2004.
This site last updated - April 7, 2017